November, 2013 - Rest In Peace, dear Mr. Dillon!

You are forever loved in the hearts of all you touched!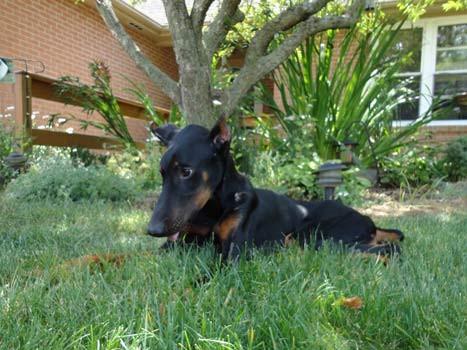 Goodbye Chester... I'm Mister Dillon now... riding high in the Night Sky!!

* * * * * * * * * * * * * * * * * * * * * * * * * * * * * * * *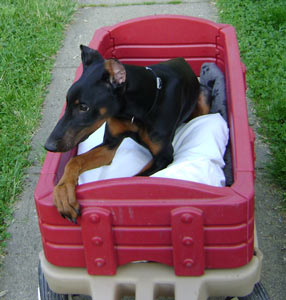 Mr. Dillon had his own Radio Flyer to get around in while FDR looked for help!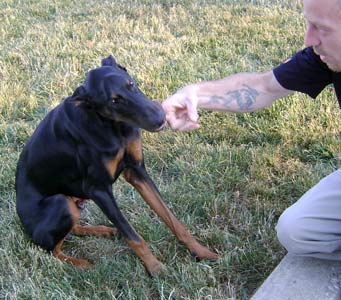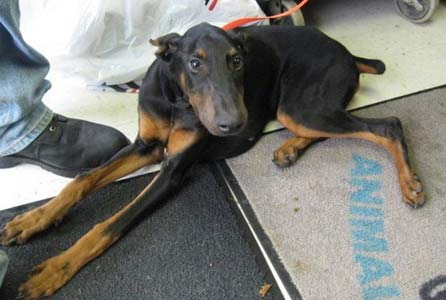 The promise of help... anxious to be done!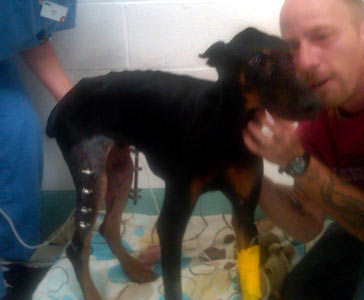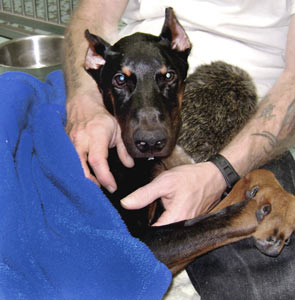 Post surgery and promise kept!! MY LEGS ARE STRAIGHT!! Goodbye Froglegs!!
Comfort & Caring in my new BFF's lap!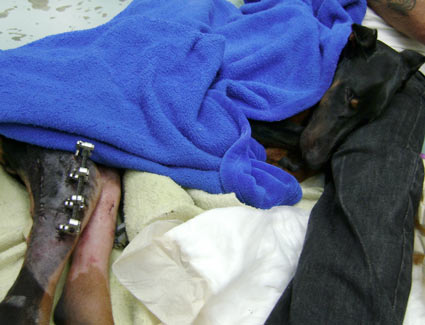 Promise kept and feeling safe and loved - nap time!! THANKS Brian, Angie & FDR!!
9/19/12 HAPPY UPDATE FOR DILLON!!! No one can say it better than Angie & Brian, soooo:
Hi All,
Well its been a while since I provided an update but we have been very busy with work and Dillon and I really wanted to give you all some good news.
As some of you know; Dillon had a set back a month ago in which infection had started at the pin in his left leg at the femur and resulted in antibiotics and pain releiver, as well as 2 weeks rest which meant no therapy.
The past two weeks we have been working very hard to try and get Dillon back on his feet. It has been quite the challenge since he lost some more muscle tone while on bedrest and is reluctant to put weight on his left leg.
With the weak leg muscle, he was unable to move his legs with his braces on even though they are very light weight. Determined to find something to keep his feet in the correct position so he would not knuckle, Brian and I headed to the hardware store for small strips of sheet metal and then Joanne fabrics for foam padding. We created splints and bent them to fit his feet and legs.
I am happy to say Dillon is back on his feet. Though he is still not balancing well due to the resistance of putting weight on his left leg and muscle tone, he is swinging his legs and trying to walk much to fast to get to Brian:)
I tried to get a pic of Dillon and Brian but when Brian is trying to support him he is too busy trying to turn around towards Brian to get his picture taken. LOL The bond these two have is truly amazing, I have to say I haven't seen a bond quite this extreme.
Dillon has even graduated from the xpen at night and sleeps on a big blanket on the floor next to Brian's bed. I was worried that he would scoot off the blanket at night and get his pins caught in the carpet, but no he stays right on the blanket all night just happy to be next to Brian.
Anyway, as you can see the KE's are still in and Dr Beckett wants to leave them in as long as possible. Dillon needs to be on his feet and walking on his own before the KE's come out or his legs could revert back. We have come much too far to let that happen.
So please continued prayers as our determined lil (growing) boy battles his way back on his feet.
Hugs!
Angie Austin
Forever Dobes Rescue
"Saving lives, one dog at a time"
GO DILLON!!!!!!!!!!
* * * * * * * * * * * * * * * * * * * * * * * * *
Dillon's luck started when he was found - discarded in a ditch like so much garbage. Although the West Virginia shelter was simply going to put him to sleep because of his condition, luckily someone saw him and told a recent Dobe adopter, who told Teka Clark of Forever Dobes Rescue. Teka got him to VCA in Columbus to see just what, if anything, could be done for his mobility and muscles. Neurology concluded he likely could not be helped. Dillon's physical therapist however, decided a surgeon should take a look at him and that's when Dr. Tod Beckett came into the picture - Dillon's biggest streak of luck yet! Dr. Beckett gave the surgery a 50-50 chance. He also stated the contracture might return even after the surgery, if it was successful. This was a very challenging surgery, one seldom performed on dogs. It has primarily been successful in horses, foals to be exact. The surgery would be expensive but FDR was determined to give him his chance at a normal life.
And Dillon? Well... he really wanted that chance too. He was such a happy boy with just love and care, mobility would be the cherry on his cake! SND agreed wholeheartedly - hopefully you will too!
Dillon was operated on by Dr. Beckett, who applied equine surgical protocols. Dr. Beckett cut his calf muscles in half, then placed them where they should have been to start with. He also performed a tendonectomy to remove dead portions of Dillon's tendons. He then reattached the healthy tendon so it could grow and stretch. IT WAS SUCCESSFUL!!!!!!!!!! Dillon has already regained 90% of motion in his hind legs! 90%... what a miracle! And, most important, what a happy Dober-pup he is now!
You can help assure that Mr. Dillon continues to get the care and physical therapy he needs! Please join Forever Dobes Rescue and SND in helping with Dillon's medical expenses. No amount is ever too small, no effort too little - he's only a little boy after all! Foster-mom Angie will be giving us updates and I can't wait!! Make a tax deductible donation in Mr. Dillon's name by clicking on the PayPal button below. Or, a donation can be sent by mailing one in. EVERY penny sent to Special Needs Dobermans to help Mr. Dillon will go to help with his expense! Thank you so much for your continued support and compassion.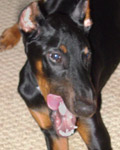 Chester who?? They call me Mr. Dillon!!