Here's Not-So-Little Miss Camellia Now!!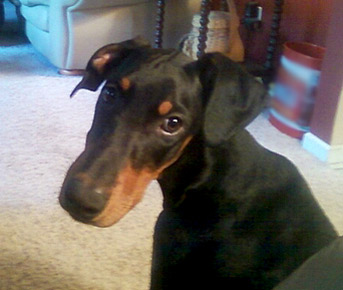 THANK YOU my DobeAngels, Everyone!!
UPDATE May, 2012!! Last month we were so happy to tell you that Miss Camellia's surgery was a complete success and our Little Princess left the hospital to recover in the arms of her new Mom!! We're so happy for the two of them! She is thriving as you can see by her adorable face above. We would like to share with you the heartwarming message we received from her RescueAngels at Refurbished Pets of Southern Michigan Donna, April and Cathy who kept us informed on the Princess' Progress - Click Here for RPSM's Message We thank the folks at RPSM who made saving this life possible and we thank all of you who touched this DobeGirlie's life with your generous donations!!
Here's wishing you a long an happy life Miss Camellia!!
* * * * * * * * * * * * * * * * * * * * * * * * *
Meet Little Miss Camellia!!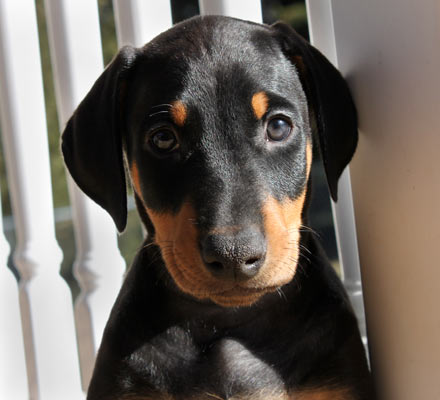 This is a test... If you can resist this face, you are NOT a DobeAngel!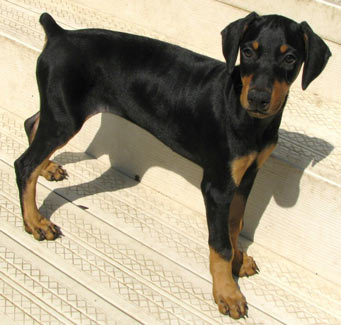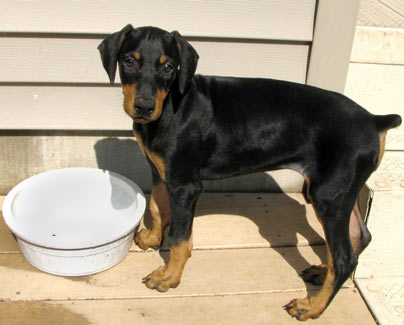 Earn your DobeAngel wings by giving Little Miss Camellia the chance she deserves to live!! Won't you??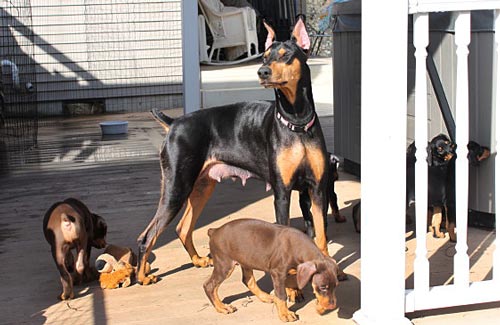 Miss Camellia's family!
Just look at that little face! Her name is Camellia and she will be 10 weeks old on March 20th. Camellia is in the kind and lovng hands of Donna and Cathy from Refurbished Pets of Southern Michigan along with Camellia's mom, dad and 8 siblings. Unfortunately mom and dad were owned by people who had no idea how to feed and care for two dobermans, let alone the nine pups she was carrying. Kylie, Camellia's mom was only being fed 1 1/2 cans of food a day - needless to say, she was severely underweight. Mom, dad and pups were turned over to Donna and Cathy only two days after the pups were born. I guess the owers must have been a bit overwhelmed! Once they were rescued, Kylie consumed 40 lbs of kibble within two weeks, plus chicken and other goodies. Those are some serious groceries!!!! But the love and care she got from Donna enabled Kylie to nurse her pups and they all survived!
Now back to Camellia, she was the smallest in the litter and very weak so it was difficult for her to get enough to eat. On February 23rd, Camellia was taken to the vet for her six week check up and it was discovered that she has Patent Ductus Arterisus (PDA) which will require surgery. On March 8th when she was taken to MSU and was found to also have a ventricular septal defect AND severe Pulmonic Stenosis which is even more serious than the PDA, but the surgeon can correct these defects during the same surgery. PDA is a condition where only a small amount of fetal blood goes to the lungs. The bypass doesn't close at birth and blood continues to bypass the lungs and does not pick up enough oxygen. The Pulmonic Stenosis is a sticky valve in the right side of the heart that does not open all the way and the heart has to work very hard to pump blood. This surgery has to be done by a cardiac surgeon and is very expensive. Cost of this surgery is $3500 and the vet says Camellia will be able to live a normal life!
RPSM and their volunteers have several different fund raising things going on including selling beautiful afghans on Ebay made by inmates at Lakeland Correctional Facility in Coldwater, MI, where the inmates also train dogs from RPSM before they can be adopted! Once the training is done they have the equivalent of a CGC plus they know about twenty tricks. WOO HOO!
Now don't get the idea that Camellia is just moping around, Donna says she is a little spit fire and she has to really work at keeping her quiet due to her heart issues. Camellia loves to hide food under whatever she can find (her mom does the same thing), she loves to play chase with her brothers and sisters and tug on pant legs! Although she is the smallest, she fights her way through all the other pups just to get into moms food, the best plate in the house!! She is always in the middle of the puppy pile where it is the warmest... she is a little smarty pants!!
Now for the best news in all of this... a senior vet student at MSU is adopting Camellia, which means the rescue will get a student discount for Camellia's surgery plus this student is also donating $500 toward the surgery... Double WOO HOO!!! So, with a little help from our friends, this little girl who is so deserving of a good life will get her life saving surgery soon. Without this surgery, Camellia only has a short time to live. So, please do whatever you can to help sweet little Camellia, no amount is to small. Thank you all again for all you do to help these sweet creatures who cannot help themselves! You can help pay Camellias surgery bills by sending tax-deductible donation online by using the PayPal button below, or by mailing one in - thank you thank you thank you!!!