Meet Mr. Ace!!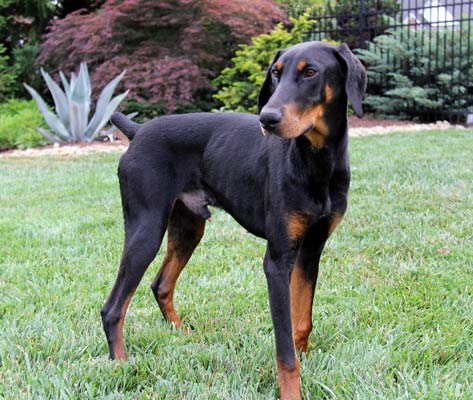 An appropriate picture for the ACE OF HEARTS!!!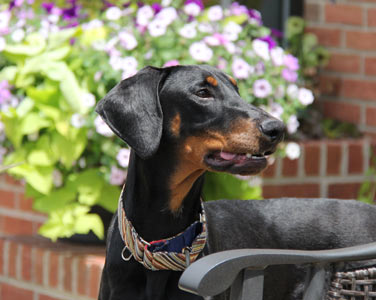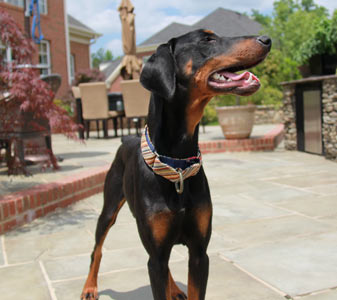 Come outside... It's amazing what I can hear now!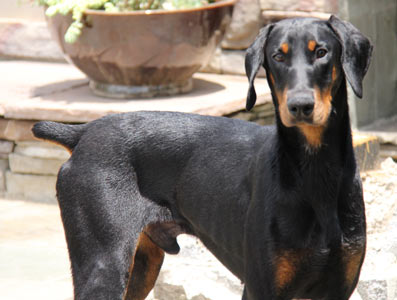 I am now playing with a full deck! I CAN HEAR YOU AND THE PAIN IS GONE!!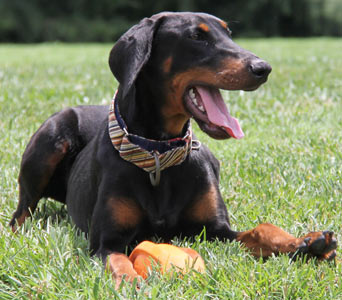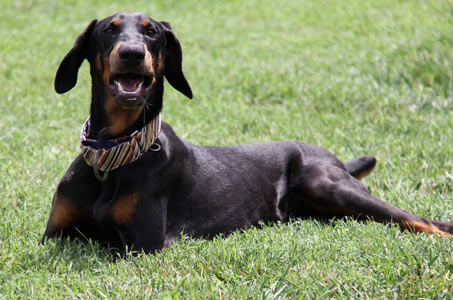 Aaaahhhhh! This is how an Ace of Heart says "THANKS" - look at my face!!
The beginning of the Ace of Hearts story is here http://www,doberman911.org/newcases.html - Please go take a look for the recap that gets us to this part of the tale which places the Ace of Heart in a full deck! D.A.N. and DDRI deserve our utmost thanks and support!!
On July 3, 2012, Ace crossed another major milestone in his new happy life. He just had his corrective surgery to open his ear canal, which his wonderful surgeon, Dr. Salmari, was able to save -- and he can hear!! During surgery, the good doctor observed that the closure of the ear canal did not appear to be something Ace was born with -- meaning it was likely caused by trauma. Poor Ace's ear was so infected that Dr. Salmari commented that the smell of the draining ear when she was working on Ace nearly drove her out of the room... but his ear canal is saved and Ace can hear with the ear -- without pain! Ace went home today, feeling like a brand new puppy and is expected to have an uneventful recovery.

Saving Ace's hearing (and possibly his life) did not come cheaply. His surgery alone was upwards of $3000.00. DDR has saved so many Dobes and with your help, they can save more. No beautiful creature should suffer the way baby Ace has. Please donate and help DDR save more deserving dogs like Ace.
You can help assure that Mr. Ace's expenses are covered so DDRI stay solvent and can continue to help the Dobies in their path!! No amount is ever too small, no effort too little! Make a tax deductible donation in Mr. Ace's name by clicking on the PayPal button below. Or, a donation can be sent by mailing one in. EVERY penny sent to Special Needs Dobermans to help Mr. Ace will go to help with his expenses! Thank you so much for your continued support and compassion.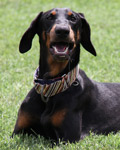 Help!! I want to be YOUR Ace of Hearts!!